People | February 21, 2023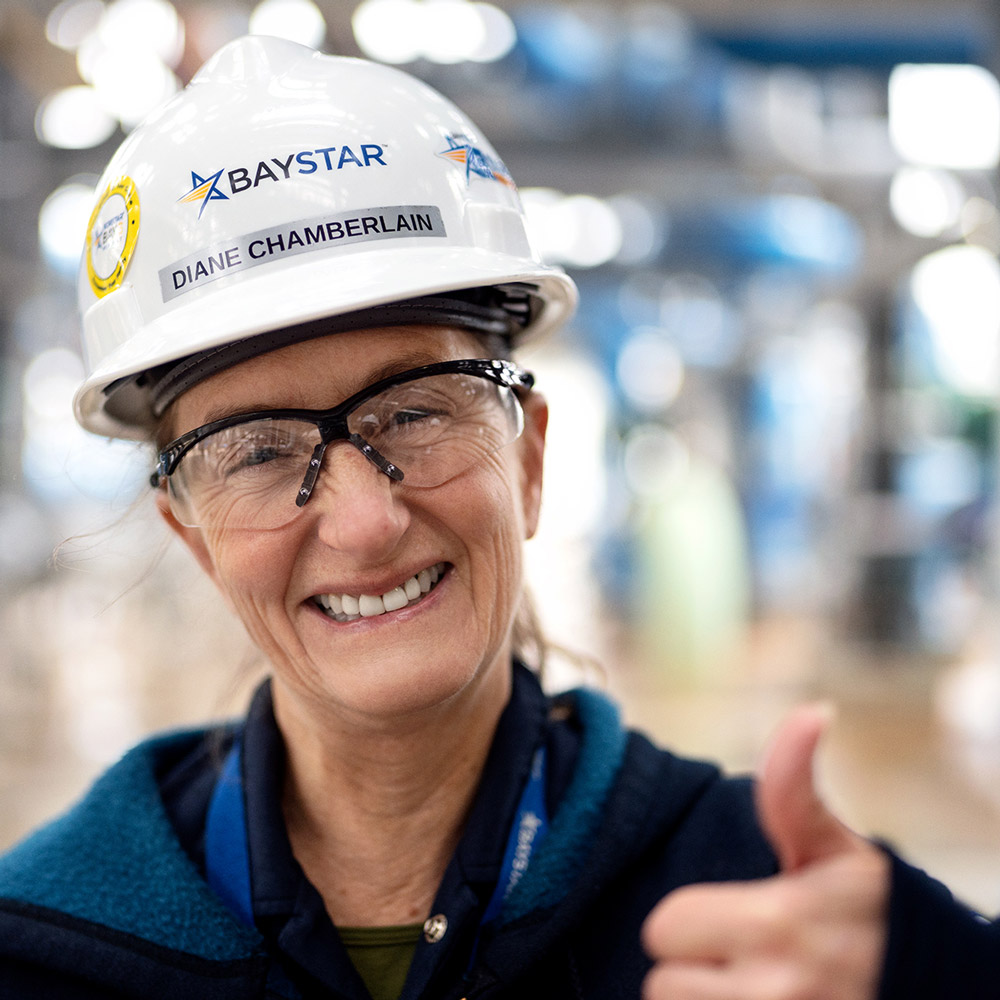 As president of Baystar, Diane Chamberlain is harnessing everything she's picked up along her journey from childhood in Minnesota and Utah and across every facet of the petrochemical industry to lead the Pasadena-based polymer company into a bold era of growth and innovation.  
"I guess I never really fit, or fit into any specific mold," Diane said. She always felt a strong sense of wanting to get people to connect. In the schoolyard, she was focused on helping other kids learn how to play together even when they didn't know the rules of a game.
"I figured, 'we both want to play, so I'll train you too so we can play together.' I guess I always had this desire to work together with everybody else."
Being strong in math also set her apart, and Diane used her strengths to help those around her.
"My mom was terrible at math. I took over doing her checkbook when I was like 10," she said. Diane's father was a soil scientist working in the forestry service, and both parents encouraged her to follow her own path.
"I picked chemical engineering but I also got a degree in economics at the same time so I could hang out with the business school people and the engineers," Diane said. "My favorite thing in the world is to figure out how to get everybody to work together."
Along the way, Diane developed invaluable experience in process controls, operations, and global supply chains at some of the world's largest petrochemical companies. She speaks highly of her first employer, Chevron (later, CP Chem), and how they helped her learn about communication between disciplines. Then, after earning her MBA, she stepped inside the world of finance. This was followed by a tenure at Shell as Global Supply Chain Manager, another company she said helped her grow personally and professionally.
Several decades later, she's still driven by the same mission to build up the individual for the benefit of the larger endeavor – to focus on the alignment of culture, performance, and core values.
"We're doing something very different here at Baystar. I can feel it when I walk down the halls, when I go inside the plant, when people stop by my office and share a little about their lives and how they feel about working here," Diane said.  "We've built this culture together, which is unlike anything I've ever experienced. The passion and dedication are genuine. And the best part is, I know our customers are going to be the beneficiaries."
Assuming leadership of Baystar in 2018, the last few years have been a whirlwind of building, growing, investing, and developing. In 2022, Baystar became a fully integrated polyethylene company with the commissioning of a new Port Arthur cracker that will supply feedstock to their existing production bays, as well as a new state-of-the-art bay that will produce North America's first Borstar® 3G Technology.
"You can sense the excitement here. We're ready to stand up and stand out in the market. We're small but mighty, and we're using that to our advantage," Diane said. "Our technology will absolutely help change the game for our manufacturing partners who are seeking better performance with improved sustainability."
This is a big year for Baystar as it steps out fully embracing its brand promise as an agile and innovative partner, offering a unique take on customer service. Diane and her leadership team have also set aggressive targets for market development. She's betting on her team, and she's all in.   
"I'm a believer that the universe is out there waiting to work for you if you just look for the right things. And I will help anybody to do that, whether you're my customer or my friend or my col
Back to news Let's connect
Our products are plastic, our people are not. So give us a call and connect. Or send us a note. A post card once in a while. And yes, we do want to see the photos of your family vacation.