People | February 21, 2023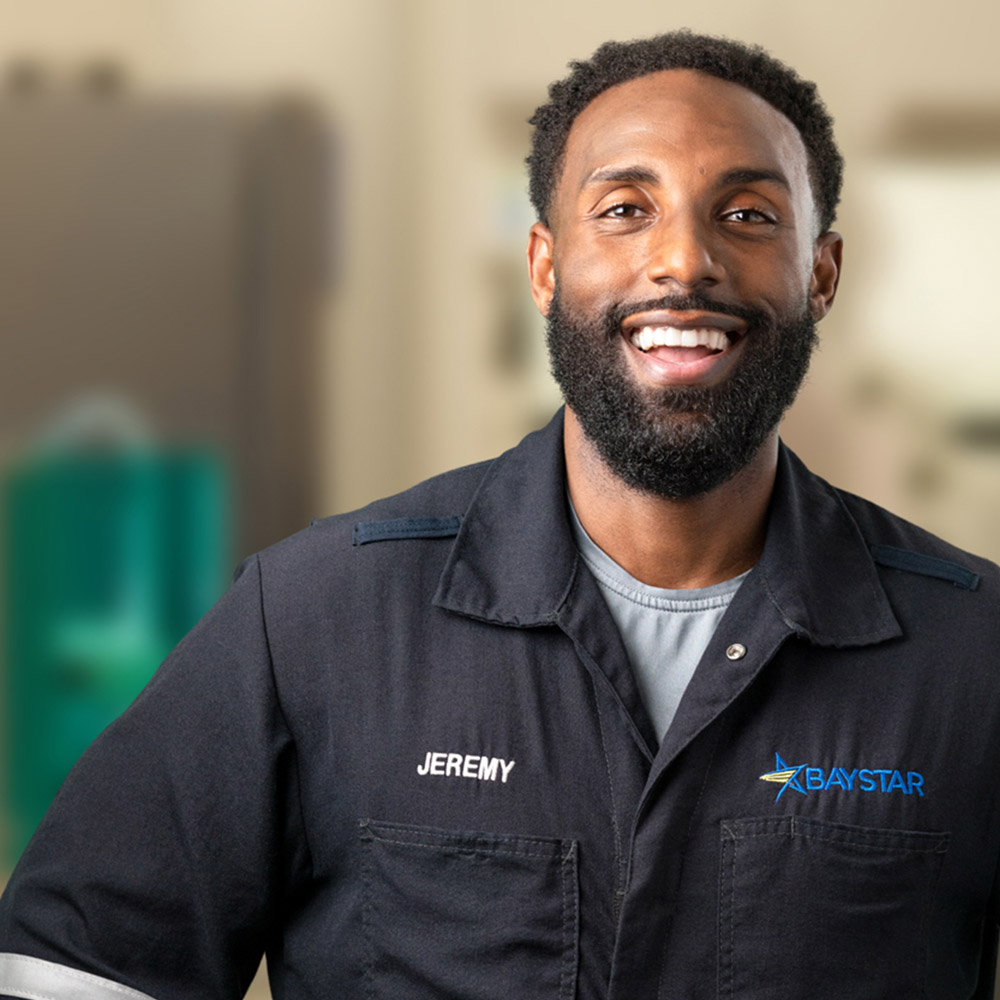 The first thing you notice about Jeremy Gasper is his amazing smile. A close second is the gallon of water he carries with him wherever he goes, hydrating throughout the day. A self-confessed 'workout-aholic', Baystar's QC Lab Superintendent is disciplined in his approach to fitness.
"I like to call it gyming. Management reviews how many times people are coming and going from the corporate gym, and me and another person in the lab are leading the company on how many times we go to the gym. I just like fitness, both physically and mentally."
His dedication to calibrating his health carries through in his work supervising Baystar's increasingly busy quality control lab. A chemistry and biology graduate of University of Louisiana at Lafayette – who was close to becoming a dentist, but that's a story for another day – Jeremy says it's been a career milestone to help design the company's lab operation from the ground up.
"The lab is critical to the success of Baystar and our customers because we are the last line of defense. We are the department and the group that is saying 'everything is good' before it's shipped out the door," he says. "When you're a customer and you can know somebody gave their all to make sure that you're getting a quality product, it speaks volumes. You're just not some random customer that we take for granted and just say, oh, this is your commodity grade. We highly customize to meet the specifications of each unique operation."
Bringing powerful new solutions to the market
The lab is a busy place these days as it processes PE product from Bay 1 and Bay 2 (400,000 ton-per-year capacity) while also gearing up to provide QC for the 625,000 ton-per-year capacity coming from the new Bay 3 facility, which will produce North America's first Borstar® 3G products. At Baystar, he says, the collaborative, one-team attitude facilitates clear and open communication from sales to production and logistics, and back again through customer feedback.
"Product is brought into our lab two ways: It can be brought in by operations via process samples, or it can be brought in by the LPS department, which stands for loading, packaging, and shipping. Once the product or samples are brought into the lab, we test each according to the product specification that has been agreed upon between Baystar and its customer," he explains.
Besides employing the best equipment and technologies, Gasper says Baystar adheres to industry best practices, which it meets or exceeds when possible. This includes ISO9000 certification, a set of internationally recognized standards for quality assurance and management published by the International Organization for Standardization to encourage the production of goods and services that meet a globally acceptable level of quality.
While the job is highly technical by nature, and science informs everything they do, Gasper says Baystar is more of a "people company" than anywhere else he has worked since entering the industry in 2006.
"What makes Baystar a unique place is our diversity and family atmosphere, but also our ability to get into a specialty market. I believe that we have the personality to go out to customers and show them that we really are trying to give them the best quality and consistent product available on the market," he says. "This is also a place where somebody can really grow in their career and be comfortable calling it home."
He's excited about the future of Baystar and his role in helping the company earn a reputation for product excellence. "We can produce different products that can be used for special applications that other plants can't produce because we're on a smaller, more nimble scale. So that means we don't have dedicated lines for one product. We can easily adapt to the market shifts and our customers' individual needs."
While calibrating things in the gym and in the lab are important, the number one priority in his life is being "a full-time dad." Baystar provides the support he and others need to maintain both a robust career and a healthy family life. Through life and work, Jeremy says he is guided by the belief that great things are possible through a positive attitude.
"One of the quotes that I always say to myself is, 'Adversity causes some men to break and others to break records'. So that means in life you're going to go through adversity, and you can either let it fold you or are you going to do great things and overcome them? I also like to say all the time, 'be great'. Speak positive things into the atmosphere or the universe, and it's going to be returned to you."
Back to news Let's connect
Our products are plastic, our people are not. So give us a call and connect. Or send us a note. A post card once in a while. And yes, we do want to see the photos of your family vacation.