People | May 31, 2023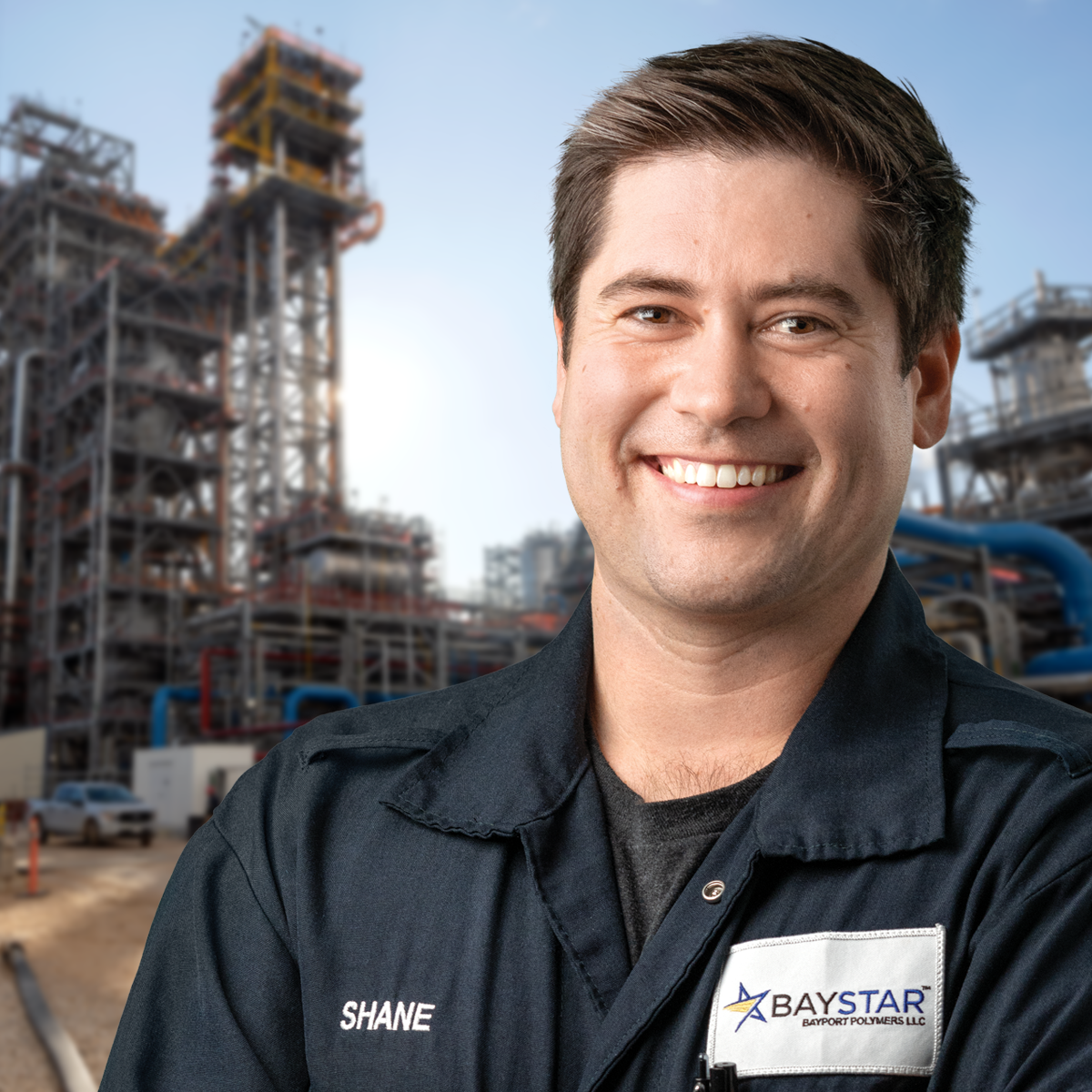 Shane Harrington and his team are driving a new era in polyethylene production with Bay 3
Shane Harrington joined the Baystar family in 2018 because he knew there were exciting things underway. His journey from Production Engineer at Bay 1 to his current role as Production Superintendent for the upcoming new Bay 3 unit has placed Shane right in the middle of the action he was seeking. Along the way his evolving roles have allowed him to showcase a deep operational knowledge and an infectious enthusiasm for the Baystar family and their customers.
In combination with the existing production facilities in Pasadena, Texas, Bay 3 will more than double Baystar's capacity, bring new technology to market, and create powerful improvements in production flexibility and environmental performance for manufacturers and converters.
After almost a decade in the industry, Shane has always known Baystar was doing things differently with a focus on innovation and people-first operations. But the facility leader notes the investment in the Bay 3 unit is a game-changer.
"It's pretty staggering production numbers at 625,000 metric tons annually; and products that set new standards in durability, customization and sustainability," Shane said.
Being a part of something big.
This isn't the first time Baystar has made bold moves in the PE industry. Since being established in 2018, the company hasn't stopped building and investing. Baystar became a fully integrated company in 2022 with the build out and start-up of a 2.2 billion pounds-per-year ethane cracker in Port Arthur to supply ethylene feedstock to all three of Baystar's PE units and deliver new supply to the market. Baystar takes a unique on-site approach for its' headquarters, so the leadership and administrative teams mix with the operational teams daily. For someone on the frontlines of production like Shane, the opportunity afforded by easy access to leadership, innovative partnerships and investment in technology make all the difference for both the employees and customers.
"There's just something about being a part of something big; breaking those production records or getting over those challenges. I like the comradery of an agile company like ours that celebrates the wins, searches for solutions, and can still have a good laugh," Shane said. "And now bringing Borstar® technology to the North America market means we're bringing new prime product to our customers – happy customers."
Borstar® technology uses a multimodal design to create the polymer architecture. This leads to a lighter-weight product with increased strength and processing. It also allows for more incorporation of post-consumer recycled (PCR) materials, setting it apart for customers focused on sustainability solutions. Find out more about the Borstar® technology and product applications here.
Investing in the right kind of leadership.
As a leader at the forefront of market-leading technology, Shane credits the success of Baystar to a culture of hard work, a hands-on approach, and a lot of humor – attributes that Shane himself has exhibited over the years as he has grown in his roles. He earned a bachelor's degree in chemical engineering from Louisiana State University, where he also honed his valuable obstacle-jumping skills as a collegiate hurdler on the track team.
He's worked in the industry since graduation, joining Baystar at its inception, and showing dedication and enthusiasm through the years. With his growing responsibilities, he recently traveled to Finland to spend hands-on time at another Borstar® plant to prepare for the Bay 3 launch.
With a history of motivating teams to break production records, Shane is well-poised to spearhead the success of Baystar's newest and largest production bay. Yet, he remains humble and steadfast in a simple mission to have as many good days at the plant as possible: "A good day is when I don't have to troubleshoot anything," he says with a laugh.
Back to news Let's connect
Our products are plastic, our people are not. So give us a call and connect. Or send us a note. A post card once in a while. And yes, we do want to see the photos of your family vacation.